StreamScore
StreamScore is SocketLabs' email performance monitoring and reporting tool that analyzes email across various first and third-party data points to indicate the overall health of an email stream (or streams). It's one singular view with color-coded, simple scoring allowing you to easily identify performance issues and dig deeper to understand exactly what needs to be done to solve them. All in just a few clicks, directly within your dashboard.
Scores are calculated daily and are based on a rolling 15-day history of messages. A 30-day history of the score for each server is displayed in your Control Panel.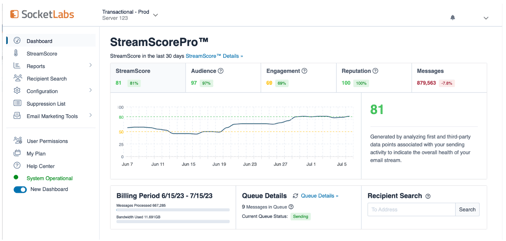 There are two versions of StreamScore reporting depending on your plan level:
StreamScoreLite is found in our Developer and Core plans. This version features a non-interactive score history graph, nor is it as feature-rich as our Pro version. It's simply a single aggregate score with no further detail.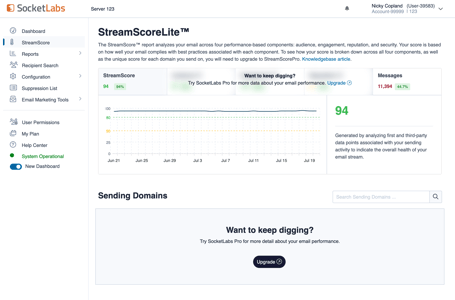 StreamScorePro is available in our Pro, Enterprise, and Complex plans. This version includes the basic functionality of Lite, but is more robust in data and features. With Pro, you're able to get individual scores from four main components determining a sender reputation, destination-level performance data, and directional insights to identify and resolve issues negatively impacting your email. It also allows for multiple subdomains to be managed, analyzed, and improved to more positively impact account-level performance as a whole.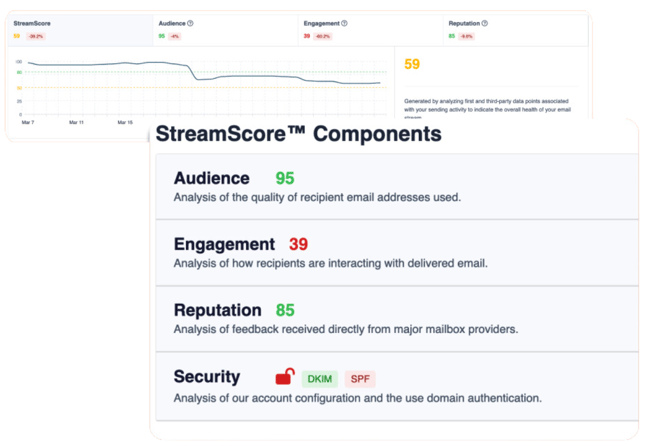 StreamScore Components
StreamScore uses three colors to indicate the performance of your email. With Pro, the score is broken down into more actionable information, but in both versions, you'll get the same kind of score:
Green: There isn't much that needs attention within your email program. You are operating at an adequate level and shouldn't be worried unless an unforeseen event happens.
Yellow: There is room for improvement. This doesn't necessarily mean all of the components creating your StreamScore are in need of attention.
Red: Attention is needed in some or all areas of your email program. With Pro, you can click deeper into what areas those are, and with Lite, you should do an overall sweep or audit of your practices and what might be causing issues.
Factors That Impact or Change a StreamScore
The StreamScore aggregate score is calculated via an algorithm that collects, analyzes, and weighs various first and third-party data points to provide a single score. To calculate your StreamScore aggregate score, the algorithm first calculates four component scores:
Audience Score - The Audience Score analyzes the quality of recipient email addresses used. This score is a result of the practices used to collect recipient email addresses and the level of maintenance performed on existing recipient lists/addresses.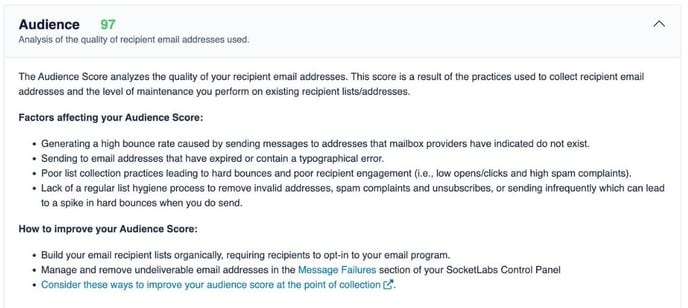 Engagement Score - The Engagement Score analyzes how recipients are interacting with delivered email. It mirrors the engagement-based decisions used in anti-spam filtering technology to identify potential impacts to inbox placement. Engagement tracking needs to be configured for this component.

Reputation Score - The Reputation Score analyzes feedback received directly from major mailbox providers about how they are judging email from the sender. This scoring component indicates your ability to successfully reach the inbox based on your reputation.

Security - The Security Check analyzes your account configuration and the use of no, partial, or full authentication.

Need Additional Help?
If you are looking for a more hands-on deliverability consulting experience with one of our deliverability experts, you can learn more about our consulting services here.